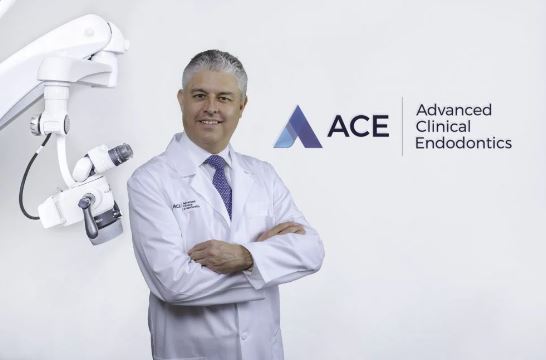 Mauricio Ceballos, DDS
Dr. Mauricio Ceballos has served the Houston community as a leader in endodontics for over 20 years. He completed his post graduate degree at the Prestigious Boston University in 1994 after receiving the American Association of Endodontics Award.   He completed his undergraduate work with honors at New York University in 1992. A father of three, he and his wife of Alexandra have deep roots in Houston where they have raised their family since 1996.
Dr. Ceballos has spent more than 20 years defining his professional endodontic practice through putting a high priority on patient care and innovative techniques. Understanding the unique needs of his patients with certain health conditions, Dr. Ceballos obtained his license to perform I.V. Conscious Sedation in 2000. He correctly identified the need for an option that allowed his patients to receive care in comfort, whether due to a health condition or just wanting to sleep through a procedure. He also identified the need so many of his peers had for an endodontic specialist who could take their emergency cases, or unique cases that required his specialty in both "technique" and "patient care" the same day!
Dr. Ceballos's commitment to patient care and innovative techniques is seen in his practice as well as his educational work in the dentistry community. Identified as a resource through which his peers in Texas can stay updated on new procedures and grow their skills, he takes pride in educating his peers on techniques they can utilize within their own practice